Woody Allen is filming a new project in San Francisco this past week and I had a chance to reminisce with him.
Per the San Francisco Chronicle:

"The 76-year-old Academy Award winning director's latest project is mostly set in the Bay Area and is a riches-to-rags story of a wealthy East Coast woman who loses her fortune and relocates to her sister's house in San Francisco. The confirmed cast includes Cate Blanchett, Alec Baldwin, Sally Hawkins and Andrew Dice Clay. Peter Sarsgaard is rumored to be another marquee name on the cast list.

According to the movie-shooting locations website www.onlocationsvacations.com, the Marin-shot scene involves an "upscale, conservative" party filmed in a private house in Belvedere. Additional scenes were filmed this week in the Paradise Cay neighborhood of the Tiburon peninsula and at the former Escalle Winery on Magnolia Avenue in Larkspur.

The so-far unnamed movie, set for a 2013 release, is Allen's first Marin-set movie since 1972's "Play It Again, Sam," in which Allen played a recently dumped neurotic who takes romantic advice from married friends Tony Roberts and Diane Keaton–as well as an imagined Humphrey Bogart incarnation."
While visiting the movie set, much to my shock and surprise, Woody Allen came over to me recalling my scouting locations for his first feature TAKE THE MONEY AND RUN. Woody remembered me driving him at lunch around in my green Rover, picking locations for the next day's shoot. He recalled our dinners at the Italian cafes in 1968, with producer Jack Rosenberg, and his grammar schoolmates as the crew, and the evening screenings counting the laughs.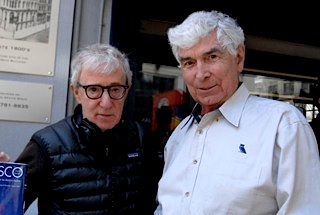 He could not have been more cordial and was delighted when I gave him five prints of the production. We met onset again at Shreves on Post Street and I give him a copy of San Francisco, City by The Bay.
The images below, taken by Morton from the 1968 film TAKE THE MONEY AND RUN, are displayed at the SF History Museum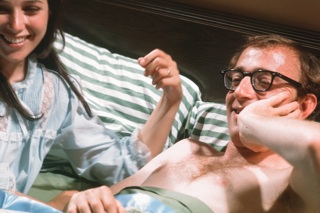 Woody in bed with the star Janet Margolin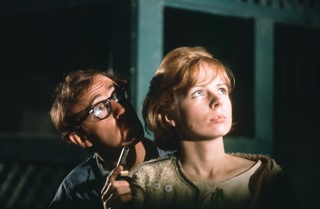 Woody breaks out of prison with the Warden's daugher, 
actress Louise Lasser (and Woody's spouse at the time)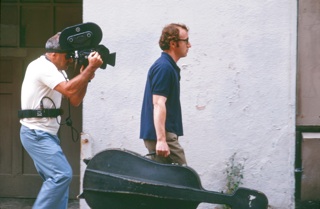 Filming in San Francisco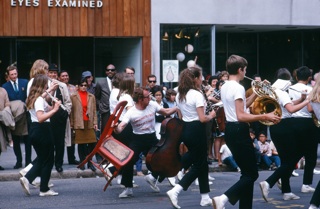 Woody is part of a marching band  in the Mission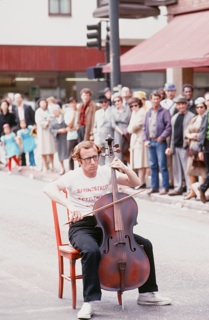 Playing the cello on Mission St.